Fall 2014 Caravan Wagon Master Blog
Oct 18, 2014
Track where we are by clicking www.vancouver.hm/trace
My name is Paul, and along with my sister Jill, we are the wagon masters for the Fall Caravan. This is a very small caravan (3 rigs) and is a scouting & orientation trip for the upcoming Spring Caravan which follows the same route. We all met tonight at the Desert Diamond Casino south of Tucson. Gary & Judy from Rosedale, BC, Canada are in a Toy Hauler, and Tomas & Nancy Wright from the Bay Area are in a pop up truck camper. Jill & I are actually in a small old Truck Camper ourselves. I elected to leave my Travel Trailer at home in the interest of cutting costs and remaining more flexible. The Wrights have 2 very large German Sheppard's in their pop up, so we do not feel as cramped as we did yesterday after seeing them. I happen to love German Sheppard's, so its OK with me..
Both my sister & I intended to use this trip as a weight loss opportunity. Unfortunately my brother & his wife run one of those businesses that stock those 25 cent candy machines, and presented us with a lifetime supply of chocolate covered almonds, M&M's etc. I suppose we can put them out at every happy hour or something. Also, its darned hot in Arizona right now. My inconsiderate sister in law has neglected to install air conditioning in her camper. It may be a mite uncomfortable until we get higher up. This is not an issue in Spring but in mid Fall its still pretty warm. In other words, relatives are a pain in the butt.
Oct 19, 2014
We got up early and Jill went into the Casino. She put $1 in a machine and it paid $180. I did the same & it paid $5. Time to get out of there. Needless to say, Jill buys dinner tonight.
Charlie, the tour guide Gabriel hired, showed up in the Nogales Wal Mart lot. I paid him and he headed back across the border for the night. We did our usual pre-trip dinner in the Chinese Smorgasbord up the hill and arranged for overnight parking at Home Depot (they have Wi-Fi)
October 20th
We headed out at 8 AM this morning and picked up Charlie on the Mexican side of the border. Gary & Judy got stopped at the inspection station. It was a good job they had Charlie with them as a translator. I suspect they just wanted to look inside his RV which is brand new. Anyway we got to Km 21 and the permit process was a little disorganized, since I had neglected to check that everyone had what they needed last night. They all did, but it was not in the right places, so we got delayed a bit. I was glad they did not stop Tom & Nancy as they had 70 lb of technically illegal dog food for the 2 monstrous dogs they have. No problem, we still had plenty of time. We stopped by to say hello to Edgar & Anna who run an RV Park in Santa Ana to tell them we would be stopping northbound. Edgar & Anna are a couple of folks who look like they got lost on their way to Haight Ashbury in the 60's. They just got married a year ago after living together for 60 years. A great, but very eccentric couple. I love them.
We arrived at San Carlos around 4:30. Quite warm, about 33 C. Tomorrow is a chill out day.
October 21st
Well, San Carlos is certainly hotter in October than it is in January when I am normally here. We are having  a free day today and tomorrow. Jose , the manager at the RV park who does our tours here, is unable to do it  tomorrow, so we have postponed it. We would rather have Jose than another Tour guide, he does a great job.
We have the welcome dinner tonight. We were unable to get the Mariachi band, but I have promised everybody they will have had so much Mariachi by the end of this tour, they will never want to experience one again, so they are happy.
One of the best parts about this stop is the great laundry facilities. Using  a camper without a shower means my laundry is in dire need of washing. Being a cheapskate, I bought shampoo at the dollar store before I left. It takes 1/2 bottle to get the crust out of my hair.
Here are some photos :
Oct 22, 2014
A quite chill out day today, no excitement today except on of the German Shepherds got loose and ran for the ocean across 4 lanes of busy highway. All ended well.
Oct 23, 2014
Tour Day. Jose, the guy who runs the Park and is also a registered tour guide, took us on a tour of Guyamos. First stop was the Aquarium where they have the best Sea Lion show I have ever seen. Then on to the Pearl farm which is famous for the unique colored pearls it produces, then a walking tour of downtown Guyamos. I was in a bit of a panic as my HSBC debit card would not let me take out any money, and that account holds our operating funds. On later checking on line, it turned out it was not issuing money, but still debiting the account. They said they were aware of the issue (hundreds of calls from others in Mexico) and working on it, but in the interim I had to use my own funds. This is the second time HSBC has done a number on me in Mexico, I am really starting to wonder about them. A good reason you should always have 2 cards on different banks down here.
We got back to the campsite just in time to drive out to the far end of San Carlos and see the sunset. I just got word that Gabriel is delayed further due to his accountants illness, so we will be picking up another of his tour guides after Copper Canyon to do Durango. I will say one thing about Gabriel, he sure takes care of his employees. Gabriel hopes to join us in Zacatecas. So far we are doing just fine without him. That doesn't sound quite right, but the guys he's providing me with, are excellent.
Oct 24th
Today we drove to Huatabampito a beach side Rv park about 4 hours further south. We we stopped on the way by an Yaqui Indian roadblock. They let us through, but had miles of semi's stopped. They are protesting a dam that will divert water from their land. Good job they let us through, its a 15 hour detour around the blockade.
Very warm, we hit 39 C at one at one point. Much cooler in January. It is always great to see Enrique & Marta, the owners of this place, they have become family over the last 8 years. A bit embarrassing, as they refuse to charge me. We all had nice dinner including a good laugh as Nancy fell backwards off her chair and one of her huge German Shepherds decided to give her a bath. Very amusing for the locals who probably think its a wolf. We have a relax day tomorrow before heading for El Fuerte and Copper Canyon, and cooler temperatures..
October 26th
We are all up early for the drive today. This may not get updated until after Copper Canyon. I am not sure I want to haul my laptop up there.
Arrived in El Fuerte around noon. We have Wi-Fi here.
The photo below is of Paul & Jill Beddows (Wagon Masters Fall 2014 left) and Gary & Judy Burgess (Wagon Masters Spring 2015- right)
In the evening we went to the house where Zorro (Diego de la Vega )was born, which is now an Hotel. The the man himself appeared and hit on both my sister & Judy. (all in fun with some ribald comments from my slutty sister about his sword) The meal was excellent.
Oct 27th
We got up early today and caught the first class train to Copper Canyon. Spectacular ride, but boy is the food on that train pricey, About $15 for a couple of Tacos. We arrived at our Hotel in Creel about 4:30 and Charlie discovered another tour group had accidentally taken his bag. He had to find a friend to drive him back a stop (an hour each way) and he did eventually retrieve it. I reimbursed him his costs and have written to the other tour company & asked to be reimbursed. Whether they do or not is hard to say. I did not want Charlie to have to pay the cost. We picked up a couple of bottles of rot- gut wine and sat in the courtyard drinking until it got too cold. Very nice Hotel. It just happens to be the same one I stayed in on my own about 4 years ago. It is cold in Creel due to the altitude, but the rooms are heated and very nice.
Oct 28th
Today we went on a tour of the local Indian Edijos, visited some cave dwellings, a school and some unusual rock formations which reminded me a lot of Matopos National Park in Zimbabwe. We had a great lunch with some cowboys in a field. Just as well, as dinner at the hotel was not that great. First time I have had chicken jerky. We actually had a good laugh over how bad it was. Fortunately I happen to know the next 3 meals will be exceptional at the next hotel.
Oct 29th
Today we drove back down the tracks to the Canyon itself. They have now added a zip line over the Canyon. As wagon master, it is of course my duty to amuse the customers, so I felt obligated to try it out. The bad news is, it cost me $30, the good news is I am not a blob of jello on the Canyon floor. I now realize why they call it a bucket list, that is what they need to clean up the mess you make, after you fall. The trip also requires you to walk over 2 very high, very narrow, very shaky, suspension bridges. The others took the new cable car across, I rode back on it. We checked into the excellent hotel on the Canyon Rim, where we watched the final game of the World Series after a swim & soak in the hot tub. Tom & Nancy are from the Bay Area, so it was a good day for them when the Giants won. We had an excellent meal at this hotel which is outstanding.
Oct 30th
This morning Charlie took us for a walk along the canyon rim. I must say my sister Jill, who has MS and trouble walking, is a good sport. I was surprised she joined us as the path is narrow rocky with a long drop off on one side. The bad news is my brother & I still have to split our inheritance 3 ways instead of just 2.
We had such an excellent lunch at the hotel, we came within 2 minutes of missing our train back to El Fuerte. We arrived back at 8 PM exhausted.
Oct 31st
Up at the ungodly hour of 6 AM this morning for a raft tour of the El Fuerte River and a walk to the ancient petroglyths nearby. Our guide, Miguel, looks & sounds suspiciously like Zorro from the other night, but I won't rat on him to the authorities until after the tour. We had a very pleasant trip down the river and saw tons of bird life, followed by a 30 minute walk up to view the petroglyths. After that we returned to the same restaurant from a few days ago and had a huge buffet breakfast. My diet thanks you, Gabriel. It is looking like I will still resemble a beached Beluga on the beach in a couple of weeks.
Nov 1st
We again rose early and got on the road by 7:30 AM for the longest drive of this caravan. I have never driven the short stretch from El Fuerte to los Mochis before and every Wagon Masters nightmare occurred, I took a wrong turn. I made the mistake of trusting my GPS, rather than my instincts and we ended up in the town in San Blas. At least I had the sense to leave the other rigs in a large parking area whilst I scouted out the route. There was a 3.2 meter bridge in the way. I made it under, nobody else would of. All ended well and I found the bypass we should have taken and took a photo & notes for the spring road log. Me bad.
I have decided to take the Caravan to Villa Celeste in Celestino Gaza for 2 nights, rather than Mazatlan, both to shorten the days driving and provide some variety. The Spring caravan will have an extra 70 km to travel on this day since this RV park is too small for more than a few rigs. To my surprise, the park already had several rigs in there, mainly Canadians and 2 Swiss, but we all fit, although Gary had to back his trailer in through the gate. The customers seem to really like this place and would like more time here, so I may look at chopping a couple of days off Mazatlan northbound on the way back, if we can work tours around it. This group seems to enjoy surprises and last minute alterations, something tough to do with a larger group. The pool was certainly welcome, the mercury hit 38 today. We all had a very pleasant happy hour watching the sunset over the ocean as Cali & Bronic, the 2 giant German Sheppard's, frolicked in the surf in front of us. I can only imagine the joy of spending a night in a pop up truck camper with 2 salt water soaked dogs who resemble small ponies.
Nov 2nd
This will be a rest day after yesterdays 7 hour drive and tomorrows 5 hour drive. A pool day, too bad the one Swiss couple have 3 young kids, so my dream of lying on my pool floater, reading all day, is probably not coming to pass. Don't these people know Mexico is dangerous for kids? I need to come up with a good Drug Cartel story to scare them back across the border. Now I am retired, kids are simply a means to pay my pension, I do not want to share a swimming pool with them.
I expect to pick up Gabriel as we pass through Mazatlan tomorrow, hopefully we can rendezvous at the Sorianna grocery store. The customers are starting to believe he is a mythical figure. I just hope he lives up to the exaggerated picture I have painted of him. Fortunately it will be a few days before he is expected to walk across a lake, stretch out a meal of fish & bread, or cure Jill's MS.
Jill bought a horse head lamp in Creel which I reluctantly (actually not really that reluctantly, I love my sister) agreed to let her transport in our close quarters. The only place to keep it, is on the bed with her, so we are re-living a scene in the Godfather, daily.
Nov 3rd
We arrived at the rendezvous and Gabriel showed up with a Green Angel. The Green Angels are the equivalent of the Auto Association. The only difference is they are government employees and do not charge. We use them for escorts on larger caravans. This is one big advantage of using Caravanas de Mexico for a caravan. As we are a registered Mexican Tour company, we have access to services others do not. We will have a Green Angel Escort for the next 2 segments which are lonely stretches of highway. We want backup if one of our customers should break down. The shopping center we met in was on the wrong side of the road, and making a left onto the busiest street in Mazatlan would normally be no fun. No problem, the Green Angel simply put his flashers on and blocked the traffic for the minute or 2 we needed to get our rigs across. Gotta love it.
We did a quick fuel stop and headed up Hwy 40D, probably the worlds most expensive toll highway. I dropped $100 crossing it in April. It is also one of the worlds most spectacular drive with its 62 tunnels and over 40 bridges. It is an engineering masterpiece. It replaces what was recognized as one of the most dangerous drives on the planet, the Devils Backbone. About 1/2 way we reached the Balluarte Bridge, one of the highest in the world and North Americas longest cable stayed bridge. My wife would not let me stop on it last spring. This time the Green Angel simply put on his flashers, blocked the right hand lane and we all got out to take photos over the edge. This is the dividing point between the states of Durango & Sinhaloa, so we swapped Green Angels at this point with one from Durango. Over the course of the drive, the temperature dropped from the 30's into the mid teens. We arrived at the motel I picked out last April on a scouting trip, which Gabriel since found out was what the Mexicans refer to as a "No tell Motel". Me bad. We rented 2 rooms and it did not take anyone long to discover channel 8 was the most entertaining. At least we are all fairly liberal minded. It looks like rain is coming.
Nov 4th
Well, rain it is. I have lived in Mexico for 4 months a year for the last 7 years and I can count rainy days on 2 hands. This one did itself proud. We had a very soggy day of tours in Durango. At one point we ended up with 4 tour guides. It seems word has gotten around we are here, and Durango is very eager to emerge as a tourism backwater now that new highway is finished. The minister of tourism herself showed up to greet us. A very attractive young lady, I might add. This is actually a very nice colonial city and is also the birthplace of Pancho Villa, the outlaw turned revolutionary who played such a pivotal role in Mexican history. Durango is still decorated from "El Dia de las Muertes" or the "Day of the dead" which was this past weekend. In Mexico, this is like Halloween on steroids. Despite the rain, we had a pleasant day touring, including the Pancho Villa museum . We had lunch at the "Vegetarians Nightmare restaurant" . 18 courses of meat, most of us made it to about number 9. I did have one piece of lettuce for balance. When we returned, the 2 dogs were almost half drowned. In retrospect, I think Tom & Nancy wished they had put them in the camper. We had happy hour in one of the rooms, all of us wistfully looking at the TV, fighting off the urge to turn on channel 8, but none of us wanted to admit it.
The minister of tourism has suggested we check out the Holiday Inn for spring. We did that and I am sorry to say for those in Spring, we will be using it as a parking lot, not the Motel Aragon. If we rent a room, you will have to settle for CNN.
It chucked down all night long. I am little concerned about possible flooding between here & Zacatecas and glad we have a Green Angel escort. 2 days ago we were all complained about being too hot, now we are too chilly & damp. All a part of the Adventure. It beats being in a tent.
Nov 5th, 2014
The rain came down hard all night. It has stopped this morning but still looks inclement. The Green Angel showed up at 10 AM and we headed out for Zacatecas. It is strange having one in front with his light flashing escorting you along the highway . People passing us gave us some strange looks, but Jill has perfected her Queen Elizabeth wave. There are a few stories of how they got their name. One is that a Canadian couple broke down in Southern Baja and were helped by them and described them as angels in a green truck appearing out of nowhere, and the name stuck. Who knows. They have been around since the 60's. They represent what is best about Mexico. I am doing my best to dispel the myth that Mexico is unsafe for RVers, and the Green Angels offer an extra level of security for our potential customers who are nervous. The fact of the matter is, they are probably at more risk in their own country than they are here. It is a hard sell.
We arrived at the 5 star Hotel Baruk around 3 PM which has an RV Park attached. Unfortunately it was filled with 3 tour buses unloading hundreds of tourists so it was a bit tricky getting us all parked in the limited area we have here. We are looking forward to the indoor pool & jacuzzi .
.Nov 6th, 2014
We did a city tour of Zacatecas today. One of my favorite Mexican Cities and a UNESCO world heritage site. Unfortunately the cable car is undergoing its annual maintenance, but we still got a good view of this city from up on the mountain. We visited the massive El Eden mine and Jill was able to get a wheelchair (which the tour guide pushed) which made things easier for her. She was a little upset about being patronized (stiff British upper lip and all that) and attempted to blow us all up in the picture below, but the dynamite failed. Or maybe it was something I said. We also took an open deck bus tour and had a nice lunch. Gabriel went to great lengths to get us 2 good bottles of wine to take there, unaware that most of us can't tell Padre Kino, from Chateauneuf de Pape. He is under the mistaken impression that his wagon masters at least, have good taste. We also visited a very expensive hotel that was created out of the old Bullring. In our grubbies, we fit in real well.
Nov 7th, 2014
A bit of a more downbeat report today. We have just found out that they have decided to delay the opening of the Monarch Butterfly reserve for a month due to the heavier than normal rainy season, so we have to cancel our visit there on this caravan. We will substitute 3 other tours, but it is of course disappointing, as this is a highlight. We unfortunately have no control over this sort of thing. I should point out this will NOT affect the Spring caravan.
We visited the Corona factory this morning. This was very hard on Jill, as it involved a lot of standing, walking & stairs. Those on the Spring or future caravans, should discuss with the wagon master whether this tour is OK for them if they have any mobility problems. It is the sort of tour that appeals more to men than women, I think. Since this is the world's largest brewery facility, for me its another bucket list item. For those nearing the end of life who share my dream to go out by being run over by a beer truck, there are plenty of opportunities to accomplish that. Just keep in mind that they have excellent medical facilities on site, so ensure you lie in front of one with a full heavy load, preferably with a double trailer. With over a million topes (speed bumps) in this country, what's one more?
Since the weather is still a bit unsettled, we scrapped the planned picnic by the artificial lake created by effluent from the "on site" sewage treatment plant. This would have thrilled my wife who is really turned on by sewage (she is an environment chemist). Despite the rather disgusting image I have just created in your mind, this lake actually has fish, with the normal number of eyes & appendages. Corona is a very environmentally friendly company and ensures its waste is utilized for energy and fertilizer, with only fully treated water coming out the other end. Instead of the picnic, Gabriel took us back downtown for another huge, calorie laden lunch, once again sabotaging my sister & I's dieting aspirations. (see cheesecake below) This trip is like trying to diet on cruise ship.
Nov 8th, 2014
Nothing much to report today. We picked up a Green Angel escort and drove to south to Guanajuato. It took about 4.5 hours. We do a city tour tomorrow, but I won't update this blog until I have reliable Wi-Fi. I am using a cell stick and do not want to use up all my bandwidth.
Nov 9th, 2014
Well, today was city tour of Guanajauato. I have been here once before and the tour made me realize how much I missed the first time. This is a fascinating city. Its most obvious feature is its network of underground roads which are like driving through mine shafts. A confusing maze of tunnels & side tunnels. Very unique, I've never seen anything like it. After a visit to a beautiful Hacienda, we did some touring by van around the city, a ride down the Funicular which Jill did not like much, and then to a lunch in a very posh restaurant. Lunch is eaten late in Mexico, and when it ended around 2 PM, Gabriel announced he had already ordered dinner for us back at the campground for 5:30 (to collective groans). This trip is certainly not lacking in food. We got back to the campground at 3 PM. Enough to time to have an hour to sleep off some of the huge lunch and then chow down some more before the evening activities. Those consisted of another ride downtown where we were led through a succession of narrow alleys (most including stairs) by singing troubadours. In one alley is is compulsory to kiss, its part of the romantic adventure. Problem is I am with my sister, not my wife. Mind you, as Jill points out, incest is all right as long as you keep it in the family. The whole evening was a very unique experience. 10 out of 10, even without my wife. And I did avoid having to kiss my sister. I suspect Guanajuato is the highlight so far. Once nice thing about traveling in Mexico this way is that you experience the real Mexico, not the artificial one you experience with 2 weeks in an all-inclusive.
Nov 10th, 2014
We headed off this morning for Cuitzeo, a 3 hour drive. I have never driven this particular segment and sure enough I did make one wrong turn. That is the reason for a small scouting caravan before we try it with more rigs. All ended well, and we we rendezvoused with Arturo, the owner of the campsite here. We also picked up a police escort who cleared the way through a small village for us. I checked out this park 4 years ago when Arturo started to build it. At that time I realized low trees were an issue, but he has had them all cut back. The approach into this park is still very steep and we have to space people out and go up the hill in low gear. It's too bad, as the toll highway is right alongside the park, but the government won't let him put an exit off it. Anyway he has made a lot of progress although he is still hooking up electricity. He is attracting caravan business from us and Caravanes Soleil out of Quebec. A very nice guy, I am glad it is working out for him.
Nov 11th, 2014
My wife's birthday has arrived. A bit strange being 2 countries apart. Hard to know what to get her, she already has all the tools and electronic toys she needs. She is having a toe joint fused in a week and will be laid up a bit for awhile. She does like learning, so a correspondence course might be nice. They don't seem to have them on cooking & cleaning, however. Oh well, flowers it is. Happy birthday Terry, I love you.
Off to our tour of Morelia today. I have never been there before, so it should be interesting. I will update tonight.
Well it turned out to be a rather soggy day in Morelia. The rainy season is lasting longer than usual this year. We did ge to visit a couple of nice cathedrals and also the Hotel where The companies bus tours stay. Very nice as the 2 photos below show. The city is also host to the special Olympics right now and I ran into quite a few of those. My son is in the Special Olympics. The group pictured below are from Brazil.
Nov 12th, 2014
Much better weather today. We took a tour to nearby Patzcuaro. Another large lavish lunch, groan. We also checked out an RV park we may add to our tours. Pictures below. The graves are a little disconcerting, probably customers who did not pay.
Nov 13, 2014
Big improvement in the weather, it looks like the rain is behind us. We slowly exited Arturo's RV park, with Arturo & Gabriel standing in the back of a pickup noting where trees had to be cut back more before the next caravan arrives. Nice to be guinea pigs. Gary's 12 ft 6 trailer did snag one wire going through town, so he has to see about getting some of those lifted as well. It was a bit longer drive than planned due to the slowness of traveling along the south shore of Lake Chapala. On one bypass around a town with potholes, locals were filling them with dirt and holding out plastic cups for donations. Can't knock them for initiative. 2 days of relaxing now at the hot springs & 2 days of tours.
Nov 14th, 2014
Do nothing, relax day.
Nov 15th, 2014
Just our luck, this is festival week in Villa Corona. As with all Mexican towns this means fireworks all night long and massive loud speakers playing music til 4 in the morning. Even though the town is 1/2 km away, it is pretty loud. Actually, wrong, it is very loud. But what the heck, we came here for culture, right? I just wish culture wasn't so noisy. Today we took a tour to the pyramids (cones actually) at Guachimontones and the Herradura Tequila factory. Quite a long day, and we should have left an hour earlier, but we will make that adjustment in Spring. Regardless, it was very enjoyable, the weather was great and our tour guide, Jorge, is nothing short of amazing. The man has so much knowledge, he is a walking encyclopedia. A 10 out of 10. We had an enjoyable lakeside lunch, but arrived at the Tequila factory a little late and had a slightly abbreviated tour as a result. Still excellent, Herradura is, in my opinion, the best Tequila factory to tour since it has all the old equipment still preserved. Most of the others are simply modern stainless steel tanks and not of much interest. There was a Mexican couple on the tour with us with 3 small boys ranging from about 6 to 10 who I just knew were going to be trouble. Sure enough, they disappeared, and the parents went off frantically looking for them. We never did find out if they found them or if they found their way into a vat of Tequila or something. This is why all children should be sold to gypsies at birth. Except my own granddaughter of course, who is absolutely adorable.
We left at closing time, and I still think they were still missing. If the next bottle of Herradura Tequila you buy has an odd taste, you know why.
Nov 16, 2014
Another night of music & Fireworks. Amazingly, Bronik & Cali, the 2 German Sheppard's seem unaffected. I have to take note of the dates and ensure no future Fall Caravan coincides with this. People on our Spring Caravans will experience a similar Festival in Melaque during St.Paricks week, but in that case, the RV park is far enough away from the action, you don't hear it. Melaque is yet another town determined to use up 1/2 the planets stock of fireworks in one single week. I never checked out exactly what was happening here in Villa Corona, I was too tired what with tours, etc to stay up late enough. I do know what it is like in Melaque, however, and those on our Spring caravan or interested in 2016, can see what goes on there regarding fireworks by looking at 3 short videos I made, viewable at mexicorvforums.com/festival . Don't worry, we tell our customers where they should stand to be safe, unless of course they wish to join the long lineup at the medical clinic the next day, & tick an item off their bucket list.
Today we took a tour to Guadalajara, Smart move on my part, picking Sunday. First of all weekends are when this Hot Spring water park is crowded with those obnoxious creatures, called children, and also traffic in downtown Guadalajara is at minimum. Once again Jorge our guide was utterly exceptional. I think he has guaranteed his position on future caravans. I have finally twigged on who he reminds me of. Mr Magoo. The guy seems to have a permanent smile affixed to him. His knowledge never ceases to amaze me. In Morelia, the guide had informed us the pipe organ in that cathedral was made in Germany. Jorge told us that was not the case, but a common misconception. The organ was repaired by a German Technician over a hundred year ago, who affixed his brass plate. The organ is actually French. Where does this guy get all that knowledge? We did a city tour, which was a bit of a challenge, as they are tearing up & restoring streets around the National Palace, but we managed. We then wandered a bit around the upscale market at Tlaquepaque, had lunch, then took a drive through the Gringo enclave of Chapala, along with a Wal Mart stop before heading home.
Nov 17, 2014
This is a relax,enjoy the hot springs day. Hopefully not many kids around. I imagine by now you have figured out I have tuned into the same grumpy old man I used to raid apples from when I was a kid.. I imagine he was hoping my parents would sell me for medical experiments as well.
November 18th, 2014
An early start on the road today. Have to get to Melaque for happy hour. An uneventful trip, Colima Volcano is still smoking as usual. We got into Laguna del Tule RV Park around 2 PM.
November 19th, 2014
Back in the heat. Today we took in the Melaque Market, one of the better small town ,markets, in my opinion, especially for ceramics. Also of course there is the usual DVD stand selling DVD's of movies that aren't even out on DVD yet. They pirate the version sent to movie theatres for approval.
Some disturbing news, a bridge is out between here & Puerto Vallarta The buses are making it though so we should. We will simply follow one next week if it has not been fixed.
For me, an afternoon of relaxing on my pool floater. This evening had one, if not the most spectacular sunsets I have ever seen. Hard to capture on camera.
November 20th, 2014
Happy revolution day. This is the anniversary of the revolution against the José de la Cruz Porfirio Díaz Mori after 35 years of rule. We decided to drive over to Barra de Navidad for an American breakfast at Banana's and ran into a huge parade of school children. As usual, Nancy was on the hunt for raw chicken feet. She believes that they will make Broniks ears stand up more. That is new theory on me, but who knows? My ears stuck out as a child, so I am now suspecting my mother fed me raw chicken feet.
Strange thing. At 7 PM, a bunch of decorated cars with kids riding on the hoods & roofs drove through the campground honking horns. Could not figure if it was something to do with a wedding or the revolution. This sort of unexpected occurrence is common in Mexico. Another reason I love the culture here. No stupid rules to spoil everyone's fun. Those snowbirds in Yuma don't know what they are missing.
November 21st, 2014
Part of the job of every Mexican Wagon Master is to introduce customers to Mexican culture. Does this mean Mariachi's? Nope. Does this mean Mexican Cuisine? Nope. Maybe on the caravans run by the other guys. What makes us different is that our customers get to experience real Mexican culture, namely female impersonators. Tonight we trekked off to Siboneys in Melaque to watch the show. The place was full of Canadians & Americans, none a day under 65, who would not be caught dead in a similar place back home. That is what I love about about this country, people know how to have fun without any pre-judgments .
BEFORE
AFTER
November 22, 2014
Just heard that the Colima volcano, considered one of North America's most dangerous, which we drove by 4 days back is in full eruption. It was smoking when we passed it, but we missed the excitement. It explains the haze around here. Its 80 km from us as the crow flies. The city of Colima is almost directly under it. Fidel, the RV park owner says you can see the volcano from the roof of the hotel here. May climb up there after dark when the lava should be visible. Right now, far too much ash in the air in that direction.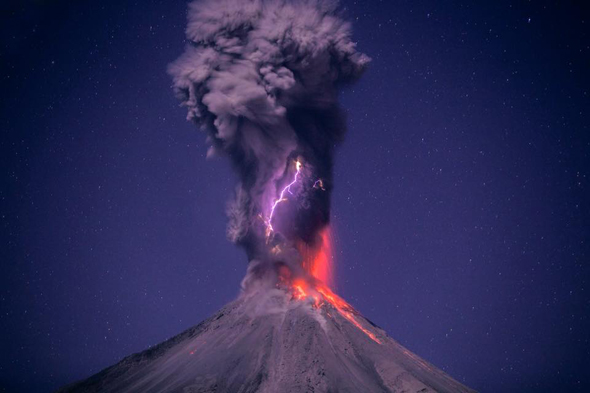 We all went out to the Salamadra restaurant tonight where the food and setting is exceptional. Dr Woo, the singing dentist was there to entertain. He also happens to be my Dentist In Mexico. He is actually a pretty good singer, and of course he made sure everybody brushed after their meal. Dr Woo is especially fond of Santana songs, but Carlos Santana was born around here in the nearby town of Autlan, so maybe that is why.
Tomorrow we head 30 min north to Boca Beach. I will be sorry to leave. Melaque is my favorite place in Mexico. Its probably much like Puerto Vallarta was 50 years ago before the Time Share salesmen invaded. Sadly I suspect it will suffer the same fate in a decade or two.
November 23, 2014
We took the short drive to Boca Beach today. I am not impressed, the RV park is a bit dirty and they tried to gouge us. I am taking it off the stops for Spring and using the extra days in locations back of here where people indicated they would like more time. It will enable us to add optional tours to Leon's leather market, Mazamitla & Patzcuaro. Part of the reason for this trip is to tweak the route for Spring. Also there are low tree branches on the access road. I spent a sweaty hour on top of my camper cutting them back. Serge, of Caravanes Soleil who has a large caravan from Quebec coming in here next week owes me one.
Anyway we made the most of it, and took a trip to Tenacatita which could well be the most beautiful beach in Mexico. There used to be a town there, but it is sad story and too long to go into. The dogs loved it. Bronic drank so much salt water he barfed. I guess he now knows. He loves kids and it was tough to watch him. He has grown even larger since this trip started and I am sure managed to terrify the few he bounded up to before Nancy noticed he was gone. Both my sister I plan to steal that dog at the end of trip while they are not looking.
We also drove into La Manzanilla for a beer. The storm that hit the coast 2 weeks back did a lot of damage. I am guessing it was the same storm we had in Durango, but on the coast it was intense. It took out a road leading to a bunch of houses and small RV parks. What used to be a causeway is now a river. Everything on the other side is trapped, cars, RV's, etc . There are about 6 small primitive RV Parks over there. If anyone is in them, they are probably there for the season. Only access is a swinging bridge over the crocodile reserve which appears to now be open to the sea.
There are bridges out between here and Vallarta, but a large 5th wheel Toy hauler pulled in this afternoon and he made it through OK, so that means we can. Good job, it would be a long way around to go the other way.
Gary managed to damage his hitch jack on his toy hauler. He caught it in a dip and it bent back. Part of the problem is the hitch extender he is using to make it easier to back up, but mainly it is the design. It hangs a good 8 inches below the equalizer bars. On my trailer (at home) it is above them. I am surprised it has not happened earlier. We have decided to cut our stay a day short here and go to Tachos in Puerto Vallarta for a night. Serge is there so I phoned him & he will arrange a welder for Gary. Must be Karma for cutting that tree back. We are hoping he can cut a hunk off the jack so it does not hang so low. That is what blocks are for
.
November 24th, 2014
We left at the ungodly hour of 7:30 AM this morning. Serge has arranged a welder to meet at at Tachos RV park in PV around 1 PM and we had no idea what condition the road was in. It turned out to be the worst shape I have ever seen it in 8 years of traveling it. 4 bridges were washed out and they had built detours through the river beds which were actually OK. The big problem was potholes & construction. At least they now have all the dry season to get it back into shape. Should be pretty well normal by the time the Spring Caravan hits it.The transit through southern Puerto Vallarta which I usually detest, turned out to be not so bad after all and we arrived at Tachos right on time. I have concluded noon is the best time to transit PV, not rush hour like I have hit it in the past. We will keep that in mind for spring. Gary got his hitch all fixed up for 200 pesos (about $18) . Tom finally got his trip to Costco, and we all had time for a swim. The weather has once again turned very hot.
November 25th, 2014
A leisurely drive north for 35 minutes to Lo de Marcos and Tlaquepaque RV Park where we will spend 3 nights. Very warm today. This is probably the most modern & the most expensive RV park in Mexico. $40 US a night. It has 2 pools, 50 amp service and is beautiful. It is popular with French Canadians and Horizon Lussier caravans is due in here in a couple of weeks. Right now it appears to have a lot of people from BC & Alberta, most in high end Class A's. I guess if you can afford 300K for one of those, $40 a night is not bad. We will just relax here for a couple of days although I am going to take a drive towards San Blas with Gary tomorrow to check out if the road is OK for his large rig. Trees may be an issue and I want to make sure the road is OK after the heavy rains a couple of weeks ago. We plan to do a tour out of there, but if it is an issue, we will go out of here instead. I will have Gabriel try to check with the Green Angels on the road condition.
Its too hot, I hit the pool. Only one in there was a Mexican father with 2 young boys he was teaching to swim. I told him it was an integrated pool, the kids get the bottom half, the adults the top half. Took a few seconds to sink in, then he started to laugh. He probably thought I was joking.
Jill, one of the wagon masters, with Bronik
November 26th, 2014
Today we went to check out the road to San Blas. It is in horrible shape, no way are we taking any RV's over it. I doubt it will be any better by Spring as it is low priority secondary road. We will do the tour out of Chacala beach which is a boondocking site 40 minutes north of Lo de Marcos. We will spent 2 nights there instead of in San Blas and do our tour out of there. This changes our route back to Mazatlan somewhat and adds a couple of tolls, but we are going to check out the free road south of Mazatlan and see if it is suitable for the Spring caravan. There is one very expensive toll booth I would like to try and avoid.
We also went to check out La Parrota RV park for Spring. Folks liked it better so we are shifting there in Spring.
November 27th, 2014
Nothing much happened.
My wife's toe fusion surgery went well. She says it's painful. I did stub mine on the pool steps yesterday.
November 28th, 2014
We have moved 40 minutes north to Chacala Beach, a gorgeous beach with a primitive campground. No services for 2 nights, but we can do a tour of San Blas from here without having to take RV's over the lousy road. Seems like the Mexicans also know about this beach, 5 busloads of people showed up along with Mariachi bands to disturb our afternoon peace & quiet. Oh well, as long as it ends by dinner time. I will add photos next time I have decent net, I am using a cell stick here. Love the beach sign.
No pooping on the beach
4
November 29th, 2014
Today we car pooled to San Blas rather than take the rigs over the rough road. We took the boat trip up the Crocodile infested river and had a nice swim at the top where it is spring fed. They have fenced an area off from the crocs and inspect it at least once very 20 years, so we felt quite secure to swim. Instead of going to the beach restaurant in San Blas for lunch we returned to Chacala beach and ate dinner at the Don Isidro restaurant which served almost, if not the the best meal, we have had so far.
November 30th, 2014
An early start for Mazatlan today. Due to the poor roads through San Blas we went via Tepic. I decided to give the free road a try from hr San Blas turnoff to Mazatlan.. This missed 2 rather expensive toll booths. It turned out to be a good decision, the free road was in good condition. I think we will do the same in the Fall and save people some money. We arrived in Mazatlan around 2 PM and stated to check the campsite out for rigs with Shaw Satellite dishes so we could watch the Gray Cup (Canadian equivalent of the Super Bowl ). We found a party to crash and it was strange seeing pictures of Vancouver (where it was played). Looked like a beautiful warm sunny day there and a great sunset from the shots we saw, but I know from my wife's reports it was actually -6. We are here for one week. We had expected Gabriel to be here, but he is off in the Yucatan attending to business. However, he has left us in the hands of Juan Carlos Guzman, his local tour guide, who got excellent reviews from last years Caravan.
Dec 1st, 2014
Today is just a relax day. We tried to get into Los Cerritos RV Park but it was 100% full. We are in the much larger Las Jaibos RV Park which is a lot larger and about 50% full (about 50 rigs). It is a block off the beach, but it has a pool which is nice as its still over 30. It has an RV for rent here which hopefully solves the problem of where to house our single traveler in an SUV on the Spring Caravan. Mazatlan Hotels are not cheap.
Dec 2nd, 2014
Today we took a tour out into the country to some villages and of course another excellent meal. First time I have been in a fancy restaurant with the entree running around in the form of roosters. Juan, the tour guide was excellent and provided extra amusement in the form of a flat tire. We visited a leather factory, the saddle below costs $300 US.
Lots of RV's pulling into this campground, I guess the southward exodus is beginning. It is strange to be headed north as everyone is headed south. We get some strange looks on the road from southbound RV's. Hopefully, I will again be heading south in Jan, although some medical issues with my wife may prevent that. Hopefully not.
Dec 3rd, 2014
Well tonight was a visit to the El Cid hotel for Fiesta Mexicana. A real swinefest with unlimited buffet & drinks. Stage show, fireworks, dancing horses, etc and we all left bloated & tipsy. We tipped them off it was Gary's' birthday and he had to go up on stage an make a fool of himself. He was good sport and got a bottle of tequila for his efforts.
Dec 4th, 2014
Today we did a Pulmonia tour of Mazatlan. These are glorified golf carts (actually VW chassis) that are the trademark of this town.
Dec 5, 6th , 2014
Do nothing days. I took Bronic to the beach both days, it was like trying to hold onto a locomotive as soon as he smelled the water. Tomorrow is a long drive to Los Mochis, or beyond, if we can do it.
Dec 7th, 2014
A 7:30 start this morning. We decided to take the free road as far as Culliacan to save on 2 pricey tolls. It was actually quite good, so it was worth it and a more interesting drive than the Autopista. We reached our intended destination of Los Mochis, not the nicest place in the world , and promptly made a group decision to push on to Alamos instead. In Spring I think we will do the same. Its light later on by that time of year, so a 2 hour stop & power nap at the Pemex north of Guasave which has a Subway, and lots of parking, should make it palatable.
We arrived at Alamos around 4:30 PM . Coincidentally, this is the start of the "Fiesta Patronial of Immaculate Conception", but I bet you all knew that. It means" Feast of the Immaculate Conception. Seems an odd thing to have a feast over, but this is Mexico and they do things like that. Hitting a festival is not much of coincidence actually, it's always festival time somewhere in this country, actually in several places at once in this country, and a lot of them are much stranger than a feast over conception. But then again who ever thought Mexico would make a big deal over St Patrick's like they do in Melaque. Those on the Spring caravan will experience that one March.
After a nap, our guide Juan (yet another Juan, this one is a professor) drove us down to the central square which was crowded with people, along with a Ferris Wheel and several other rides. I was last in Alamos about 5 years ago and I don't remember that central square being all that big. Traveling fairs and circus's are now almost unheard of in Canada & the US, but they are alive & well in Mexico, we see lots of them on the highways. Speaking of highways, we passed about 10 RV's today headed south, giving us rather funny looks as we headed north towards colder weather.
Nancy has done a number on her thumb, She got it caught in Bronics leash. I am not sure what happened, but chances are he spotted another coconut, and went for it. Bronic seems to have a big fascination with coconuts and delights in dismantling them piece by piece. When Bronic spots a coconut, it is doomed. Unfortunately, he likes to do it in my lap with those giant sharp teeth an inch away from the family jewels. (yes mother, 2 more coconuts and your son will be a soprano) Anyway, the thumb may be broken, and to top it off she had a fall as well. We are going to take her to the hospital tomorrow to maybe get it X-rayed. She is a real trooper, though, she still joined us for the festivities this evening.
Dec 8th, 2014
Today we had tour of Alamos Scheduled. We went to hospital with Juan the tour guide to get Nancies hand tended to. We were there 2 hours and Juan was great, providing translation as they did not speak English. 2 x-rays revealed a fracture, so they bound it all up for her. The bill came to 140 pesos or about $12 US for everything. Amazing. We continued the tour, but Nancy is a bit woozy on painkillers. I am glad we took her to the hospital. I probably paid Juan too much for his tour services, but he did go above & beyond for one of our customers.
I will upload some photos tomorrow when we get to San Carlos & I have faster internet.
Dec 9th, 2014
Nancy is not feeling well on top of her broken finger, so we have decided to cut a day off Alamos & head back to San Carlos early. At our farewell dinner we made a group decision to head back across the border tomorrow, 3 days early. Border fever I suppose. It is quite frankly, a relief to me, for personal family reasons I really want to get home as soon as possible, but of course I have customers to deal with. I will update with some more photos of the last couple of days when I get home to Vancouver
Dec 10th, 2014
Today we crossed. About an hour wait to get across the border at Nogales, and we were in the US by about 2 PM. All in all, an extremely successful caravan, despite the problems of the last couple of days. With a small group we were able to make decisions conducive to all of us.